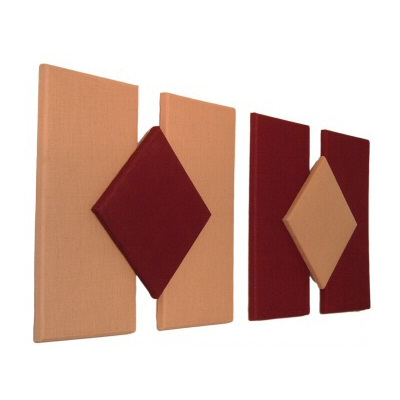 Small Size. Big Impact!
We live in a 3-D world. So why should our acoustical treatment designs be limited to a 2-D layout? With our panel-to-panel mounting hooks, your space can expand beyond standard acoustical treatment layouts. Attaching multiple acoustic panels together in an overlaid 3-D pattern is easy with these hook and eye screw mounting products. The panel-to panel hook and eye screw sets are appropriately sized for mounting to the backing of the acoustic panels and other surfaces, such as the internal frame of another acoustic panel. Although small in size, they have a big visual impact when combined into any number of acoustical treatment design layouts.
Specs and Features:
• Brass-plated hooks measure 1 1/4 inch long.
• Zinc-plated eye screws measure 12/16 inch long.
• Each set contains 8 hooks and 8 eye screws.
• Quick Shipping via UPS Ground.