Acoustical performance is increasingly being recognized as a component in sustainable interior environments. A building's acoustics affects the productivity and satisfaction of the occupants and also contributes to their health and well-being.  By incorporating recyclable and sustainable materials in the design and manufacturing process, "green" sound control applications can reduce harmful noise levels and create cleaner indoor air quality to improve the overall indoor environment.
LEED Credit Potential for Recycled Content and Indoor Air Quality.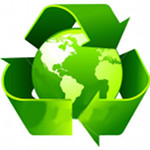 ATS Acoustics' eco-friendly acoustical treatments provide an environmental advantage over current industry standards by incorporating both high recycled content and renewable resources in our products. Our eco-friendly sound treatments can help projects meet green building standards and earn LEED points towards LEED for Schools, LEED for New Construction, and LEED for Existing Buildings.
ATS Acoustic Ceiling Panels and ATS Acoustic Eco-Panels are manufactured with an ECOSE® fiberglass core containing no formaldehyde, phenol, artificial colors or acrylics. The ECOSE® core material features low VOC's and is certified for indoor air quality as a low emitting product by the GREENGUARD Environmental Institute to both the GREENGUARD Indoor Air Quality Certification Program and the GREENGAURD Children and Schools standard.
ATS Acoustic Eco-Panels for LEED Projects
ATS Acoustic Eco-Panels provide superior acoustical performance and impressive environmental stewardship. Eco-Panels are available in several standard sizes and fabrics, or we can meet your specifications for custom shapes and sizes.   We can also custom print any art, image, or photo for a high quality, customized Art Eco-Panel.
Eco-Panel features:
90% pre-consumer recycled composite framing.
58% recycled ECOSE® fiberglass.
ASTM E84 Class A Fire Rating available.
Option to select alternative fabric suppliers.
ATS Acoustic Ceiling Panels for LEED Projects
ATS Acoustic Ceiling Panels are a highly absorptive acoustic panel designed to fit standard 24″ x 48″ or 24″ x 24″ ceiling grid systems. They are an easy way to upgrade the acoustical quality of a room without altering the appearance and usage of wall space.
Ceiling Panel features:
Contains at least 50% post-consumer recycled material by weight.
ASTM E84 Class A Fire Rating available.
Both our Acoustic Eco-Panels and Acoustic Ceiling Panels take advantage of a full, diverse range of sustainable materials. Our eco-friendly acoustic products are recommended for acoustic installations in schools, office buildings, hospitals, recreational facilities, and auditoriums….or anywhere that a green, effective sound treatment is needed.
Please call us at 1-866-787-7881 with any questions or for a quote.