ATS Acoustic Ceiling Panels are a highly effective, environmentally friendly acoustical application that fit easily in regular drop ceilings. For convenience, these ceiling panels fit easily in standard 24" x 48" and 24" x 24" ceiling grid systems. With these standard sizes, ATS Acoustic Ceiling Panels can be discreetly placed in a multitude of spaces such as classrooms, offices, conference rooms, hallways, and more. With more sound absorption than the standard drop ceiling panels, these acoustical ceiling panels will help eliminate sound problems in any kind of environment.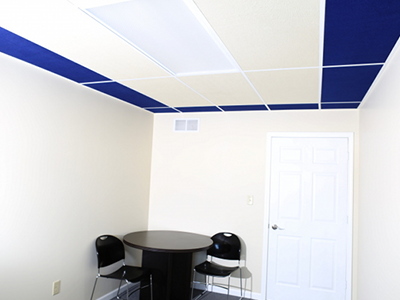 These ceiling panels come in 16 Guilford of Maine fabric colors, allowing you to mix and match the panels for a unique and customized look. Additionally, ATS Acoustic Ceiling Panels are eco-friendly with LEED credit potential. The ECOSE® Technology fiberglass contains no phenol, formaldehyde, acrylics, or artificial colors, and features 58% post consumer recycled materials, making these certified for Indoor Air Quality as a low emitting product by the GREENGUARD Environmental Institute. These formaldehyde-free panels can contribute credit towards LEED for Schools, LEED for New Construction, and LEED for Existing Buildings, Operations, and Maintenance.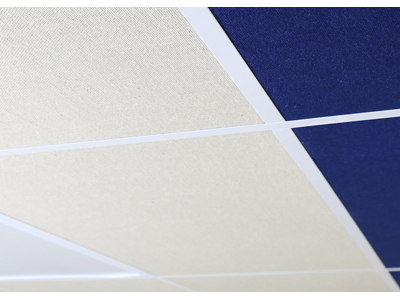 Panel dimensions: 24″ x 48″ x 2″
Core material of 2″ 3 lb Knauf Board with ECOSE® Technology .
Fiberglass boards are certified for indoor air quality as a low emitting product by the GREENGUARD Environmental Institute.
Easy to self cut for custom ceiling tile sizes. Simply use a straight ruler and any standard utility knife.
Weight: 4 lbs (each panel)
Available in a wide palette of fabric colors allowing unique sound control treatments for your environment.