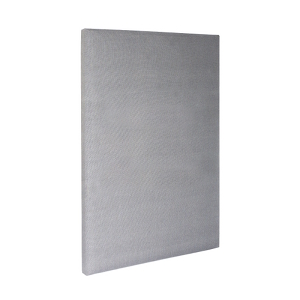 ATS Acoustic Eco-Panels are the only brand of customized acoustic treatment that provides superior acoustical performance and impressive environmental stewardship. The Eco-Panel's recycled content provides a healthier indoor air quality than standard fiberglass based panels and can contribute to LEED certified building projects. Core material can be either ECOSE® fiberglass or recycled Cotton material (note that Class A fire rating is not available on the recycled Cotton material). ECOSE® Technology fiberglass contains no phenol, formaldehyde, acrylics, or artificial colors. ATS Acoustic Eco-Panels feature 58% post consumer recycled materials and reduces binder embodied energy by up to 70%. With carbon negative sustainability, these panels also reduce carbon generation during their life cycle.
Specs and Features
Dimensions: 24 x 24 x 2
Average weight per panel: 8 lbs
Noise Reduction Coefficient (NRC) of 1.00
Handcrafted in the USA.
ECOSE® fiberglass features rapidly renewable bio-based materials rather than non-renewable petroleum based chemicals. Certified for indoor air quality as a low emitting product by the GREENGUARD Environmental Institute to both the GREENGUARD Indoor Air Quality Certification Program and the GREENGUARD Children and Schools standard.

Custom specifications: ATS Acoustic Eco-Panels are available in Custom Sizes up to 49 x 96. We will meet your specifications for panel sizes, shapes, and fabric alternatives. Choose from our original fabric, or request our microsuede fabrics, Guilford of Maine materials, or any fabric you desire.