When mounting ATS Acoustics Ceiling Panels, or any type of panels that require mounting, it is especially important to make sure that the installation is secure and safe. Here are some safety tips and reminders for when you mount your ceiling panels:
Work with ATS Acoustical Cloud Installation Hardware

Each installation kit contains two angle iron runners and the corresponding amount of screws and washers, quick links, anchors, and toggle clips.
All you need is a drill for installation.
This installation hardware is not suitable for hanging the fiberglass and mineral wool insulation board we sell. For mounting hardware for insulation board, take a look at our RotoFast Insulation Cloud Anchors.

In recording rooms and music studios, typical installation is directly above the listening position or work space.  For home theaters, Acoustic Clouds should be mounted at first reflection points (i.e on the ceiling halfway between the speakers and the listening position).
If you are working with a drywall ceiling, be sure to use suitable drywall anchors anywhere you are screwing something to the drywall.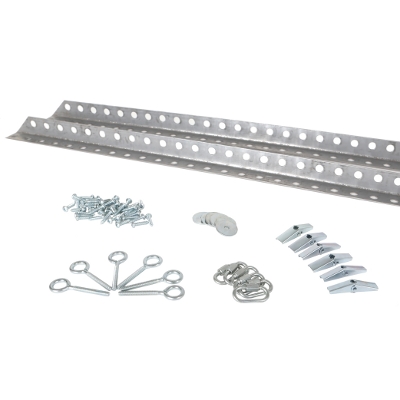 If this is a DIY job, some customers will drill small pilot holes (from the back through to the front edge of the panel) and put screws through those holes and into the ceiling (preferably into a joist or other solid structure). The edge frame of the panel is solid and will support screws.
Others use screw eyes and/or screw hooks in the back of the panel and in the ceiling, sometimes with sections of wire to suspend the panels a couple of inches or more below the ceiling. The hooks and eyes can also be hooked together, or held together with small cable ties.
Be sure to know how much each panel weighs so that you can ensure the proper amount of support for that weight is covered (via the suitable drywall anchors, proper hardware, etc.).

The 24x48x2 inch panels weigh 10.5 pounds each, and the 24x24x2 inch panels weigh 5 pounds each.

Pay Attention to things like lighting, sprinkler heads, ventilation, and any other obstructions. In large establishments, you may want to consult with local building and fire codes before starting the installation!
And lastly, whatever method you choose, use your common sense to make sure the panels are securely attached.