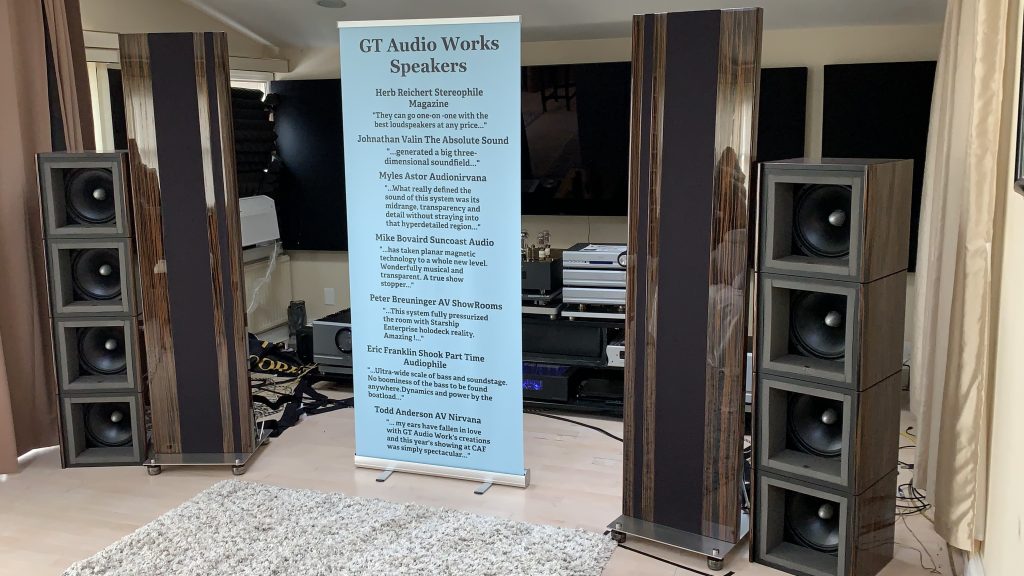 ATS Acoustics + GT Audio Works at Capital Audio Fest

Among this year's exhibitors are our friends from GT Audio Works – Greg Takesh and Steven Rabitz.  We at ATS Acoustics have once again partnered with them to provide quality room acoustics to showcase their quality products.
About ATS Acoustic Panels
Supporting Greg's speakers this year in the hotel's Roosevelt room are ATS Acoustics panels in Guilford of Maine fabric . Consisting of a flexible mineral wool core and internal wooden frame and back, the ATS Acoustics panels are finished with a 100% post-consumer recycled polyester fabric facing. ATS Acoustic panels are available in a wide variety of colors and fabrics and are customizable to fit most customer needs.
About GT Audio Works Loudspeakers
"The GT Audio Works loudspeakers are unique and innovative to the high-end audio industry. They are designed, created, and made by the founder of GT Audio Works, Greg Takesh. The speakers are commonly referred to as planar magnetic. The other half of the system consists of open baffle woofers with supplied 1,000 watt monoblock amplification and DSP control. The main panels which are the planar magnetic part of the system feature hi strength neodymium magnets and a special composite membrane which contains the pure copper traces. Part of the success of the speakers is that they do not contain a crossover which inherently causes a loss of transparency with respect to the music and other issues relating to phase shift errors and inefficiency to the amplifier. The speakers were designed to use a well designed acoustical panel most importantly placed behind the speakers. This is necessary in order to tame the back wave of the sound which emanates not only from the front of the speaker, but from the back of the speaker. We have had the greatest success in achieving the best sound with ATS acoustical panels." — Steven Rabitz, Sound Insight and GT Audio Works
For More Info
The GT Audio Works Owners Group on Facebook, as well as the Sound Insight High End Audio Facebook group, showcase customer systems and products. Customer reviews and photos from across the country can also be viewed on the ATS Acoustics Website and Facebook page.